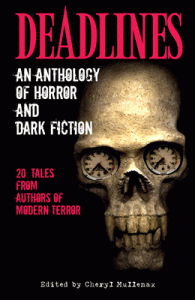 Deadlines is a nightmarish excursion into fear featuring stories from 20 up-and-coming authors of horror and dark fiction. From serial killers to zombies, from sinister dolls to malicious cats, this collection is a veritable a-z of evil and a deadly trip down the dark side of human nature.
This anthology contains my vampire story:
In Your Warm and Darkened Grave
Available Now! Kindle, Paperback
Visit Comet Press
This story is also available in ebook form in my short story collection Tales of River City.