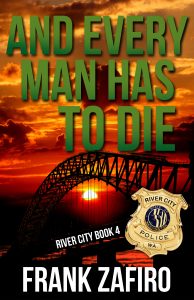 A River City Crime Novel #4
Every city has organized crime. But only River City has a Russian gangster like Valeriy. He's meticulous, cunning, and willing to sacrifice anything–and anyone–to see his conquest through.
In Val's way are the men and women of the River City Police Department, including rookie B.J. Carson. She's trying to fill the shoes of a legend while the pressures of patrol and her own past catch up to her. She and her colleagues must unite and work together with a former River City cop turned FBI agent to face down the single biggest organized crime threat River City has ever seen.
In this novel, Frank Zafiro explores what honor and courage mean on both sides of the law, weaving a complex and engrossing story of crime, justice, and relationships. There are plotters and detectives, usurpers and leaders. Plans within plans. And in the end the price of victory and justice can both be high…and every man has to die.
Takes place in 1998.
 or order from your favorite independent bookstore, such as 

 or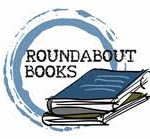 Ebook: 
(Or search "Frank Zafiro" at your favorite outlet!)
Audio: 
Free Preview of And Every Man Has to Die (over 50 pages):
REVIEWS:
"Above all, the crime genre prides itself on pacing, and this is where Zafiro delivers. He knows when a bit of slack only serves to heighten the tension; and the romance, brutality, scheming, arguments, heart-to-hearts, jovial banter, and, of course, death are dished out in just the right amounts in the right places. And Every Man Has to Die is a one sitting read for all the right reasons."
E.J. Iannelli, The Inlander
"Possibly the most complicated and hard hitting novel in the series…"
Kevin Tipple, independent reviewer
"The novel has a complex plot…that Zafiro has woven together with seeming ease."
Debbi Mack, author of Identity Crisis and Least Wanted
The River City Series Continues…
And coming in 2018, Book #5 – In The End!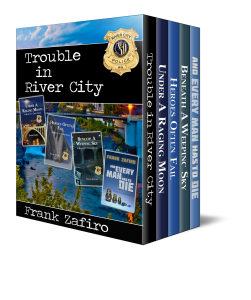 If you'd like to get the entire River City series (all four novels!) in one ebook volume, you can purchase Trouble in River City box set.