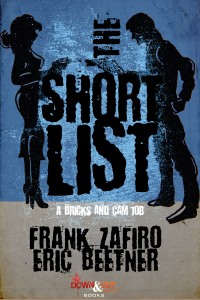 Well, almost…on August 1, you can download it, but you can PRE-ORDER it on Kindle now! Or order the paperback!
I'm pretty excited about this sequel to The Backlist. In fact, so much so that Eric Beetner and I are going to start work soon on A Bricks and Cam Job #3!
Meanwhile, here's hoping you'll dig this second installment of this series which takes us to Boston for much of our tale. Once again, the tale is told in alternating first person chapters featuring first Cam and then Bricks, then back to Cam again. I wrote the Bricks chapters and Eric the Cam chapters. The story, like the first, has it's moments of humor, plenty of action, and a little bit of bittersweet.
Enjoy!