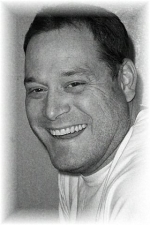 Frank served in the U.S. Army from 1986-91 in Military Intelligence as a Czechoslovak linguist.

In 1993, he became  a police officer in Spokane, Washington. During his career, he worked as a patrol officer, corporal, and detective. In 2002, he became a sergeant and entered into leadership roles. He was fortunate enough to command patrol officers, investigators, K-9 officers (and their dogs!), and the SWAT team. Frank retired from law enforcement in 2013 as a captain in order to write full time and to teach.  From 2013-16, he taught law enforcement subject matter at community college, university, and as an independent consultant. He also occasionally teaches a series of writing workshops. In 2017, Frank retired from his brief second career as a teacher/consultant, and settled into being a full time writer.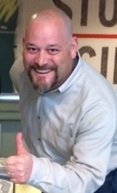 Frank earned a BA in History from Eastern Washington University in 1998, and an MS in Administration of Justice from the University of Louisville in 2012.
Frank began writing seriously at about thirteen. In 1995, he started the first draft of Under A Raging Moon, which would become the first book in the River City series of crime fiction. Since then, Frank has completed a number of novels set in River City, a fictional version of Spokane, Washington. The River City series is published in paperback by Gray Dog Press and currently sits at four volumes.
Other Frank Zafiro books are also set in River City, including mysteries such as Waist Deep and others starring Stefan Kopriva, and Some Degree of Murder, written with Colin Conway.  Other novels are set in Spokane proper, such as The Last Horseman and At Their Own Game, or elsewhere, such as the Chicago setting for Blood on Blood, the first book in the Ania trilogy, written with Jim Wilsky. Books with an East Coast flavor include his"List" series with Eric Beetner beginning with The Backlist, and his novels with Lawrence Kelter, (The Last Collar).  He has also partnered with Bonnie R. Paulson in their thriller, The Trade Off.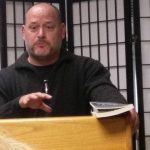 Frank has held the #1 author spot for police procedurals on Amazon, and remains one of the top ranked authors in that Amazon category. Frank's books are available in all formats — paperback, ebook, and audio book.
In addition to novels, dozens of Franks' short stories have been published in magazines (print or online) and numerous anthologies.
Frank also write mainstream fiction under his real name, Frank Scalise, including his hockey novel All That Counts (Gray Dog Press, February 2010) and a children's book series about Sam the Hockey Player, which begins with The Hardest Hit.
Frank resides in Redmond, Oregon, with his wife, Kristi. He is an avid hockey fan, reader, movie lover, gamer, and a tortured guitarist.