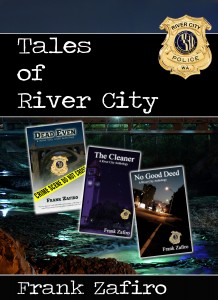 This is a bundled collection of Frank Zafiro's River City short story collections, plus fourteen bonus pieces. This volume contains Dead Even, No Good Deed and The Cleaner, as well as an additional fourteen of Zafiro's unrelated short pieces.
DEAD EVEN: Detectives and mobsters, missing mummies and a shootout with Gypsies—here are fifteen short stories featuring both major and minor characters from the River City novels, now given their own chance to shine in this fast-paced collection of theft, mystery, and murder.
NO GOOD DEED: An ex-cop looking for redemption…an American man and an Irish lass interwined in love and violence…a cop with a conscience that he doesn't always listen to…a retired cop looking to repair a broken relationship with his drug-addicted son…a Yankee cop in the West Texas…these are the characters you'll meet and explore in No Good Deed.
THE CLEANER: A frustrated crime scene cleaner…an off duty cop in a jam…a patrol officer who believes in a strange fate…a holier-than-thou Internal Affairs whose world gets turned upside down…plus those that are crazy, surrounded in sadness or just trying to get by – these are the many and varied characters of River City, brought to life in 17 short stories.
BONUS STORIES: Thirteen Frank Zafiro tales, some of them crime fiction, some horror, some mainstream…plus a poem. Not available anywhere else!
P.S. Enjoy the original, throwback covers featured on this bundle…
Exclusively available on  
Kindle
!