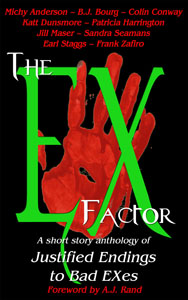 An anthology to curl the toes & warm the bitter heart.
This anthology contains stories focusing on ex's–spouses, lovers, you name it. Included are my River City stories:
Helping Out
Take A Hand
Core Issue
This anthology is out of print, but there are copies available on AMAZON and Barnes and Noble.
These stories also appear in my short story collections Dead Even, No Good Deed, and The Cleaner