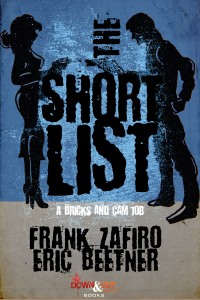 Well, almost…on August 1, you can download it, but you can PRE-ORDER it on Kindle now! Or order the paperback!
I'm pretty excited about this sequel to The Backlist. In fact, so much so that Eric Beetner and I are going to start work soon on A Bricks and Cam Job #3!
Meanwhile, here's hoping you'll dig this second installment of this series which takes us to Boston for much of our tale. Once again, the tale is told in alternating first person chapters featuring first Cam and then Bricks, then back to Cam again. I wrote the Bricks chapters and Eric the Cam chapters. The story, like the first, has it's moments of humor, plenty of action, and a little bit of bittersweet.
Enjoy!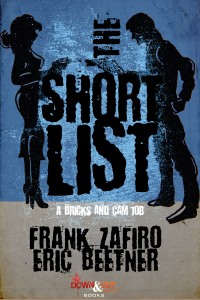 My second novel in The List series, The Short List (with Eric Beetner) will be out from Down & Out Books on August 1st, 2016.
What is it about?
When Bricks and Cam strike out on their own in the aftermath of their bloody showdown with the Giordano family, not everything goes as planned. Boring, straight jobs aren't satisfying, and their first successful solo hit is a messy one. Worse yet, someone has revenge on their mind. Before they know what is happening, Cam is kidnapped and Bricks is attacked by an old enemy.
Cam uses his wits as he struggles to escape his captors while Bricks frantically searches for her partner in crime. Both hack away at the mystery of who is bent upon vengeance against. There is a short list in play, and both Cam and Bricks are on it.
But they're not going to stand still and take being attacked. Not by anyone. They're going to fight back.  They're making a list of their own, and it's even shorter than the one they're on…
Get your copy on August 1!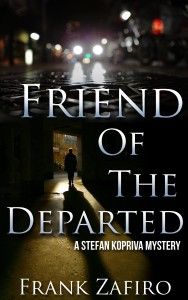 My third Stefan Kopriva novel, Friend of the Departed, is now available!
What's it about? Well…
When defense attorney Joel Harrity asks Kopriva to look into a prospective client's guilt or innocence in the murder of her husband, he reluctantly agrees. He quickly discovers that answers to even the simplest of questions are nearly impossible to find. The deeper Kopriva digs, the more no one seems to want him to find the truth behind the death of Harrity's friend.
Faced with a possible murderer that won't answer questions, a police department asking the wrong people the wrong questions, and threats of violence from an unknown source, Kopriva forges on, determined to discover the truth….even if it kills him.
Get your copy now in ebook or paperback! Audio coming soon!
You can read the first 50 pages FOR FREE on my website. Go ahead, take it for a spin before you decide if you want to read the whole thing.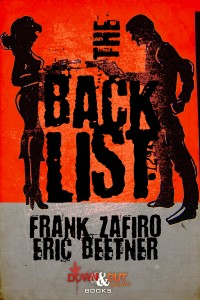 My novel with Eric Beetner, The Backlist, is now available for pre-order from Down & Out Books!
The book will be available on September 15 for $4.99 but if you pre-order, you get it for only $2.99. So grab yours now!
What's this book about? Well….
When the mob finds itself on hard times and has to lay people off, the boss decides to give two different hitters separate lists of "overdue accounts"—a backlist—to see who distinguishes themselves enough to remain on the payroll.
The sharp-tongued Bricks and the hapless, eager to please Cam find themselves faced with challenges they never imagined when they got into the business.
But there's no other choice than to settle out the names on…The Backlist.
Eric Beetner and Frank Zafiro are behind the voices of Cam and Bricks, and bring you a fast-paced crime novel full of action, twists, verbal jabs, and mayhem. Lots of mayhem.
P.S. Down & Out Books has accepted the sequel, The Short List, for publication in September 2016!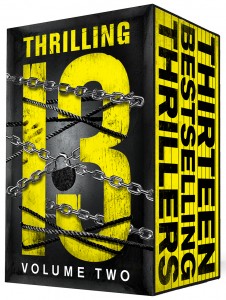 Thrilling Thirteen Volume II is now available!
That's right, book fans….13 books for 99 cents is once again a reality. You can get Blood on Blood by Jim Wilsky and I, as well as twelve other books, all for the low price of 99 cents. This novel anthology is the second incarnation of Thrilling Thirteen, and well worth your interest. Most of these books cost at least three times this price all by themselves, and to get another dozen in the bargain? Well, it's simply crazy.
It's also temporary, so get yours while it's available. Because just like its predecessor, this volume will go away after a little while.
I'm honored to be ask to participate in this project again. There are some great authors in this volume and there's bound to be several entries that fit your preferred sub-genre of thriller novel. And for 99 cents, how can you go wrong?
Here's the official lineup:
Identity Crisis (Sam McRae Mystery) – Debbi Mack
Choke – Dani Amore
Sin Walks Into The Desert – Matt Ingwalson
Tenderloin (Abby Kane FBI Thriller) – Ty Hutchinson
Blood On Blood (Ania Trilogy) – Frank Zafiro & Jim Wilsky
Truth And Lies (Charlie Fox Thriller) – Zoë Sharp
By Executive Order – Lawrence Kelter
Scale Of Justice – Dani Amore
No Good Deed (Mark Taylor Series) – M.P. McDonald
Saving The World – Gary Ponzo
Through Smoke (Firefighter Heroes Trilogy) – J.R. Tate
The Death of Red Rocket – Lawrence Kelter
Volcano Watch (Forensic Geology Series) – Toni Dwiggins
 My newest release, THE TRADE OFF, needs reviews. So…I will give a free copy of IN THE SHADOW OF EL PASO (paperback, ebook, or audio) to the first TEN people who read The Trade Off, write a review, and notify me of said review.
That's it. Get the book ($2.99 Kindle, $12.99 paperback), write the review, and tell me about it. After that, the only thing left to do is decide if you want the paperback version of IN THE SHADOW OF EL PASO (I have limited copies, so first come, first served there), the ebook, or the splendid audio version narrated by Craig Jessen.
This offer will run until done!
I'm proud to announce that I'm part of the 99 cent box set of thriller novels, Thrilling Thirteen!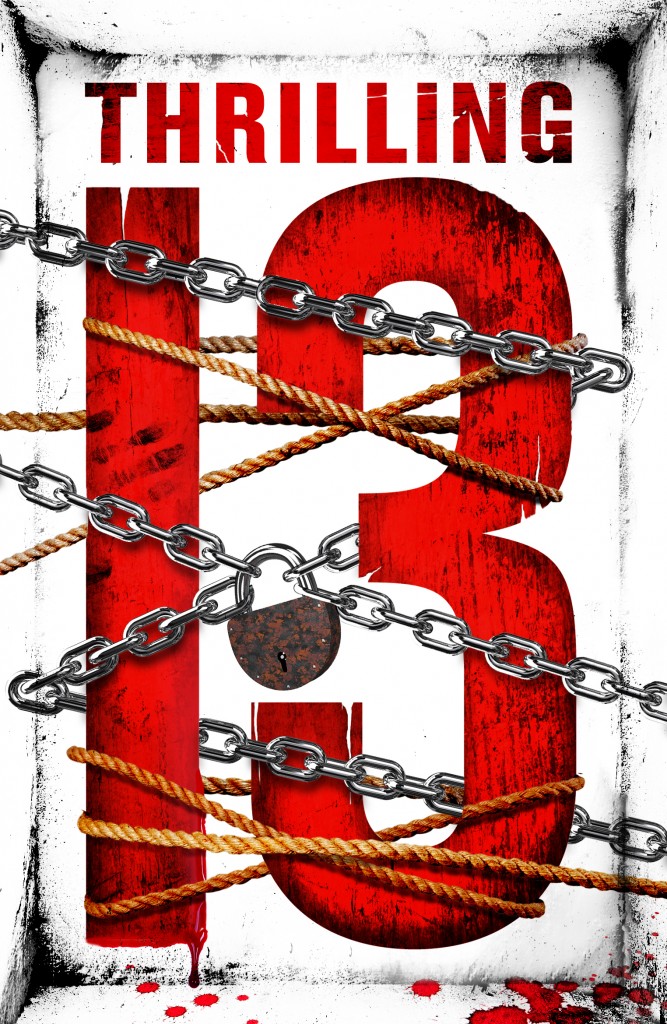 Thrilling Thirteen includes ten thrilling novels, two page-flipping novellas and an action-packed short story collection from the minds of bestselling and award winning authors. Here's the lineup:
A Touch of Deceit (Nick Bracco Series) – Gary Ponzo
Russian Hill (Abby Kane FBI Thriller) – Ty Hutchinson
Arctic Wargame (Justin Hall Series) – Ethan Jones
Look For Me (Rachel Scott Adventure)- Traci Hohenstein
The Last Horseman – Frank Zafiro
The Diplomat (Justin Hall Series)  – Ethan Jones
The Recruiter (A Thriller) – Dani Amore
Mark Taylor: Genesis (Mark Taylor Series) – M.P. McDonald
In the Shadow of El Paso – Frank Zafiro
Don't Close Your Eyes (Stephanie Chalice Thriller) – Lawrence Kelter
Quicksilver (Forensic Geology Series) – Toni Dwiggins
Least Wanted (Sam McRae Mystery) – Debbi Mack
Absence of Light (Charlie Fox Thriller) – Zoe Sharp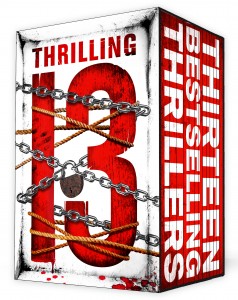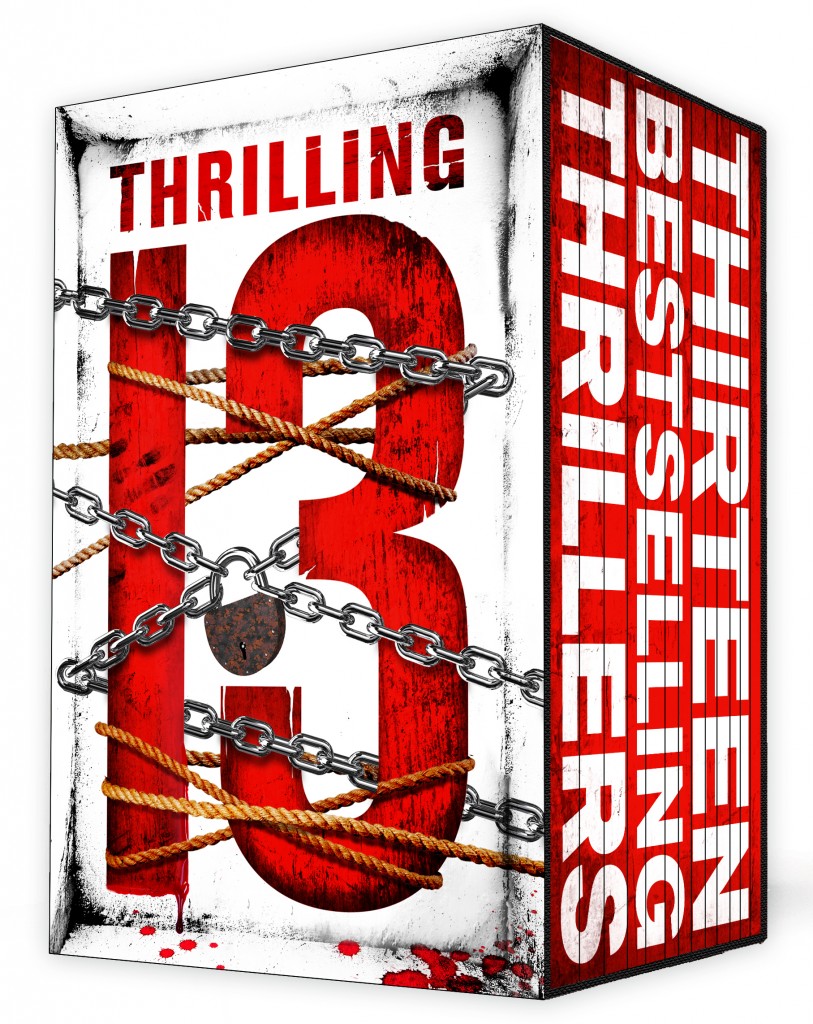 All of these are complete works.  Eleven complete novels, two complete novellas, and one two-story collection equals thirteen complete titles…for 99 cents.
Yes, 99 cents.
Sound crazy? It is. And while crazy lasts forever in some people, it won't with this box set. It will be available for a limited time, so get your copy while it is is still available. And if any of these novels happen to lead you to other works by these same authors (like me!)…well, maybe that's not so crazy.
Where can you get your copy of Thrilling Thirteen on Kindle?  Right here.
Also available on the Nook. And Kobo.