My new novel with Jim Wilsky, Queen of Diamonds, is coming out tomorrow!
You can find this loose sequel to Blood on Blood in paperback right now and in ebook tomorrow, both on Amazon. Other outlets to follow.
Queen of Diamonds pits amateur card shark Casey Brunnell against poker circuit champ Cord Needham, vying for the affection of the mysterious "Annie"…who is really Ania Kozak from Blood on Blood. There will be a third book featuring Ania later this year, but for now, enjoy this Vegas adventure. If you like poker, Texas Hold 'em style, you'll dig this book. If you don't care about poker or understand it, there's plenty of other things to keep your attention — a sexy, mysterious blonde, a high strung cop, a Swedish mobster, and a shady security chief are all thrown into the mix.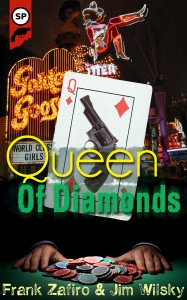 I hope you enjoy Queen of Diamonds…and get it tomorrow as soon as it comes out.
When Ania Kozak hits Vegas, she's only looking for a place to relax and lay low with her stolen cash and diamonds. But Sin City has other plans for "Annie." Cord Needham is a poker circuit champion with an eye for the ladies and a dark secret in his past. Casey Brunnell is a former baseball player fighting the cards and running up debts to a local mobster. When Annie decides to play a dangerous game with both of them, the stakes go through the roof. Everyone scrambles to beat the odds and get out of town with the money…and their lives.
Everyone has a Memorial Day sale. I'm doing something slightly different. I'm having a pre-Memorial Day sale. The sale is 100% off of my bundled short story collection, Tales of River City.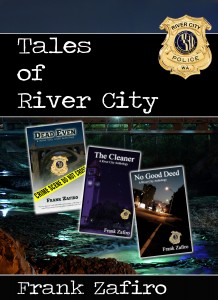 That's right, this book is FREE!
But it's only for five days. Beginning May 20th, it will be free until the clock ticks past 11:59 PM on May 25th…and your Memorial Day weekend begins.
This is a great way to grab something to read over the long weekend.
What's this book about?
Well, this is a bundled collection of my three River City short story collections, plus fourteen bonus pieces. This volume contains DEAD EVEN, NO GOOD DEED and THE CLEANER, as well as another fourteen of my short stories.
DEAD EVEN: Detectives and mobsters, missing mummies and a shootout with Gypsies—here are fifteen short stories featuring both major and minor characters from the River City novels, now given their own chance to shine in this fast-paced collection of theft, mystery, and murder.
NO GOOD DEED: An ex-cop looking for redemption…an American man and an Irish lass intertwined in love and violence…a cop with a conscience that he doesn't always listen to…a retired cop looking to repair a broken relationship with his drug-addicted son…a Yankee cop in the West Texas…these are the characters you'll meet and explore in No Good Deed.
THE CLEANER: A frustrated crime scene cleaner…an off duty cop in a jam…a patrol officer who believes in a strange fate…a holier-than-thou Internal Affairs whose world gets turned upside down…plus those that are crazy, surrounded in sadness or just trying to get by – these are the many and varied characters of River City, brought to life in 17 short stories.
BONUS STORIES: Thirteen Frank Zafiro tales, some of them crime fiction, some horror, some mainstream…plus a poem. Most of these stories are not available anywhere else.
These collections have been selling pretty well for the last year or so (No Good Deed is #10 overall in Mystery Anthologies on Amazon as I write this), so here's your chance to get all three, plus some bonus material, for FREE.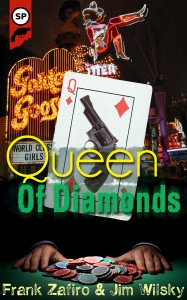 Why the free promotion? Obviously, I'm hoping it introduces new readers to River City, and to all of my fiction. And I'd like to reward existing readers who haven't got around to these short collections yet.
Oh, and since my new novel with Jim Wilsky, Queen of Diamonds, is coming out in a matter of days…the timing works pretty well. So take a flier at Tales of River City, free for 5 days, and let me know what you think!
I have two new audio books available now. For River City fans, both are River City related.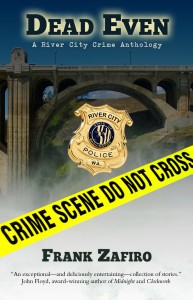 The first is Dead Even, a River City short story collection. It contains detectives and mobsters, missing mummies and a shootout with Gypsies – 15 stories featuring characters from the River City novels, each given their own chance to shine. This collection stars:
* Katie MacLeod
* Finch and Elias
* Paul Hiero, and
* Dominic Bracco.
The audio book version, narrated by Sharon Bond, is now available at Audible.com, Amazon, or iTunes.
I chose a female narrator because the first three stories are Katie MacLeod's, andan audio sample from Dead Even! she's never been narrated by a female. I chose Sharon because she had a knack for the genre, and she proved to take a very exacting approach to her work. Details matter to her. In addition to capturing Katie MacLeod, she did a splendid job finding the voices for all of the male voices throughout this collection, too. Her take on the final story, the title track, was particularly strong.
Here's an audio sample from Dead Even! I like how Sharon used the montage approach, so you get to hear her take on all of the main characters in the sample.
The other book available this week is Lovely, Dark, and Deep, the sequel to Waist Deep. Both feature Stefan Kopriva, and both are narrated by John Hourigan. The new release is available at  Audible.com, Amazon, or iTunes!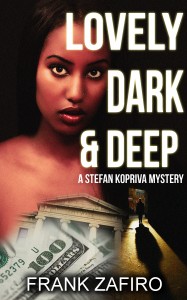 In Lovely, Dark, and Deep, a city councilman is dead of an apparent suicide. Ex-cop Stefan Kopriva finds himself drawn into the case, serving an unlikely client. Once involved, he discovers that things are not as they seem.
Kopriva is quickly embroiled in dirty city politics. Along the way, he encounters pimps, prostitutes, gangsters, contractors, and the police as he tries to get to the bottom of what happened, and why. This is something no one wants, so Kopriva must risk his own freedom and his very life to find the answers, no matter how deep the corruption goes.
The nice part about a sequel being narrated by the same person as the first book is that you get some continuity of character. I found this with Michael Bowen, who narrated the River City series from Books in Motion. I think readers like that sense of familiarity (I know I do).
John grabs onto the gritty underside of River City with his narrative style, and really has me believing he "is" Stefan Kopriva…or Rolo…or Dominic Bracco…well, you get the idea.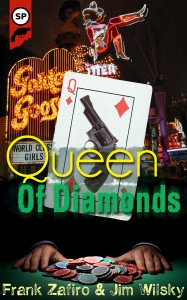 My newest collaboration with Jim Wilsky, Queen of Diamonds, is coming soon from Snubnose Press!
What's it about?  Well…
When Ania Kozak hits Vegas, she's only looking for a place to relax and lay low with her stolen cash and diamonds. But Sin City has other plans for "Annie."
Cord Needham is a poker circuit champion with an eye for the ladies and a dark secret in his past. Casey Brunnell is a former baseball player fighting the cards and running up debts to a local mobster. When Annie decides to play a dangerous game with both of them, the stakes go through the roof. Everyone scrambles to beat the odds and get out of town with the money…and their lives.
Queen of Diamonds is a sequel of sorts to the Zafiro/Wilsky novel, Blood on Blood, which also featured Ania. A third book in this series is coming next year.
You can check out the first 60 or so pages for free on the Queen of Diamonds page on my website.
Jim and I wrote this book in the same format as Blood on Blood (the third book is also in this format). The book is written almost completely in the first person, from the two different viewpoints of the two main  characters (not counting Ania), Cord and Casey. This style provides greater intimacy with each character (a first person strength) but also allows the reader to know things that one of the characters may not (a third person strength). It also gives the reader different perspectives on situations and people, which is always interesting.
I'm excited about this release. Look for it to be available soon!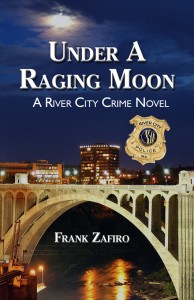 I am pleased to announce that all four novels in my River City series are now currently available at Books in Motion! 

Books in Motion has now released: Under a Raging Moon (#1), Heroes Often Fail (#2), Beneath a Weeping Sky (#3), and And Every Man Has to Die (#4) at their studios right here in Spokane. I think the tie-in is pretty cool — local author, local setting, local print publisher, local audio book publisher…talk about a local flavor, huh?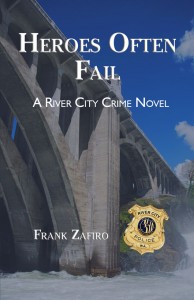 As a bonus, for a limited time, there is a
30% discount code
for purchases made directly from Books in Motion. Simply use the code word
RIVER
at checkout and the 30% discount will be applied. Or, if you're a completist, the
entire series
is available on CD right now for just $85. That's all four books, regularly $125. Over 42 hours of story-telling…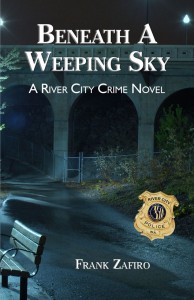 The books are narrated by Michael Bowen, who does a spectacular job. He has his own distinct style, but if I were to compare him to anyone, he reminds me a little bit of the actor Peter Coyote at times. Michael captures Katie MacLeod and especially Thomas Chisolm, very well. Other secondary characters have a voice that really fits their role — the bombastic Lt. Crawford, the weaselly Lt. Hart, the goofy Anthony Battaglia, among others. He does excellent accents, too.
Something that was interesting to me as the writer is the way he interpreted some characters very differently than I heard them in my own head. One example is the crime analyst, Renee. Bowen plays her with a French accent, something I never imagined. However, in the world of River City, which has a high character count, this sets the character apart and makes her much more easily recognizable. So it works, and on an artistic level, it is always interesting to see how someone else interprets your work.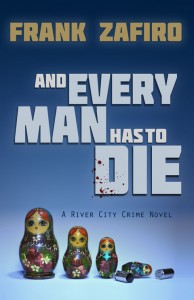 Bowen sets a tone early on in this series with his slightly "matter of fact" style of delivery, perfect for a procedural, but he injects all the right levels of emotion as he goes. To say that I'm very pleased with this production of the River City novels is an understatement. It makes me what to finish writing the next one so I can hear the audio version!
Paperback and ebook versions (all formats) of these novels are also available!
Wanna win a free sneak preview of the next Zafiro/Wilsky novel, Queen of Diamonds?
Okay, here's the deal. All you have to do is read and review the first Zafiro/Wilsky novel, Blood on Blood, on Amazon or whatever platform you prefer. Email me at frankzafiro@msn.com or hit me up on Facebook or Twitter to let me know you wrote the review. The first five (5) people who do that will get a free preview of Queen of Diamonds emailed to them.Now, what if you've already done a review of Blood on Blood, but still want to play? That's cool, too. Write a new review for any of my books that you've read, and I'll give you the free preview during this promotion, too. It won't count toward the five Blood on Blood reviews.
This promotion will continue through the end of February or until the first five lucky winners check in, whichever comes first!
Queen of Diamonds is the second crime novel by Jim Wilsky and I. It is also the second in a trilogy of crime novels featuring recurring characters. The release date is pending, but we'll announce soon!
As you know, I like to have a guest come by every once in a while.
My friend, Eric Beetner, is a multi-talented dude. Not only is he a great writer (check out The Devil Doesn't Want Me for a great hitman story! I'm about 70% of the way through and LOVING it), but he has his day job in editing and film (I'll let him fill you in on that, if he wants to), is a musician (which makes me especially jealous, because I love music and suck at it), and a killer graphic artist.
Want proof on the graphic artist part? Well, he designed the covers for Blood on Blood, Lovely, Dark, and Deep, and At This Point in My Life. He's working on the cover for the Blood on Blood sequel, called Queen of  Diamonds.
Eric has written a couple of novels that center around boxing, too, and they're on my TBR list.
Take a little time and get to know him. He's a cool guy. Trust me.
TO SEQUEL OR NOT TO SEQUEL?
by Eric Beetner
As I close in on the final edits of my latest book, I'm at that point where I've been living with the story long enough for every doubt I can conjure to creep through the cracks and pester me into self doubt. The biggest question the book keeps asking me – why did you need to write this at all? Didn't you already write this book?
You see, it's a sequel. The continuing story of what happens after my novel The Devil Doesn't Want Me leaves off.
I'm conflicted about sequels. Well, not sequels so much as series. I come from a movie background where an ongoing series is rarely a good thing, Bond not withstanding. When was the last time the 5th movie in a franchise held even a fifth of the wonder and excitement of the first? My daughter is in a Star Wars phase and I recently had to cave in and let her watch the new movies. Episode 1, 2 & 3, y'know, the ones that were made later but take place first and are generally awful and tore something out of the hearts of first generation Star Wars fans? Yeah, those.
When I read Ridley Scott is doing a sequel to Blade Runner I think I screamed out to the heavens, "Nooooo!" like a bad soap opera actor.
I don't read many series. I certainly don't read long series. I know I'm missing out. People all the time tell me I need to read the Jack Reacher books, The Joe Pike and Elvis Cole books, the Harry Bosch books. No one is telling me to read them, but there are the Stephanie Plum books, the Alex Cross books, the V.I. Warshawski books as well.
Nope, I skip them all. I prefer standalones. I like a crime story where anyone can die at any time. It sucks the life out of a story if I know the protagonist is in no real danger because he or she has to live to see the pages of the 15th, 19th, how-high-can-you count installment of the series.
So what the hell am I doing writing a sequel?
It can be done. I don't mind the idea of continuing with characters we like. Every now and then you get a Godfather 2. Heck, even The Empire Strikes Back is probably a better movie than Star Wars.
I've written sequels before. My novel One Too Many Blows To The Head (co-written with JB Kohl) was written as a standalone, but then a new story popped up and we went ahead and wrote Borrowed Trouble.
My Fightcard novella Split Decision was received well and was so much fun to write that when I was offered an open invitation to write a sequel, I jumped on it and wrote A Mouth Full Of Blood.
Both stopped there. Truthfully, if the public demand was such that it made it worth my time to write more of either, I'd do it in a heartbeat. I'm starting to see the light, from a writer's point of view anyway. Characters you already know are easy to slip back into their voice. You can build on an established history for a character. You can respond to what readers already like and didn't like about a book.
I know I could never do it for ten, twenty, thirty novels. A trilogy is good to me. Maybe five, tops.
But then I've been getting in on the ground floor of a few series and I'm enjoying it. Maybe that's the trick. For me, at least. Start with these people, become invested, and then follow them anywhere. Something like, the River City series for example. Or Steve Hockensmith's Holmes On The Rangeseries. Charlie Huston's Joe PItt series. Joe Lansdale's Hap and Leonard.
I guess the secret to all those is great writing. Keeping it fresh. Maintaining characters, but creating something new each time out. To the writers of ongoing series, Frank Zafiro included, more power to you. I'm jealous. I wish I could do it. I'm working on it.
To the readers of ongoing series, I understand now. The more I dig into series that are a little longer, so long as I got there on the ground floor, the more I see the appeal of returning to characters you like and rolling along on another adventure.
For my new book, good news is I like what I've read back. Often times I've forgotten huge chunks by the time I reach the end so I can read it fairly objectively because it's new to me. I think this one is going to be good.
Fan of The Devil Doesn't Want Me will be pleased. Will it go on from here? I have no idea. I'll happily change my tune and deny I ever had a thing against series when I'm on book seven and loving it.
I'll continue to write standalones, but I'll enjoy returning to familiar voices more and more.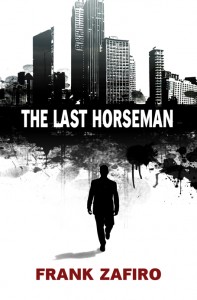 Readers of my novel The Last Horseman have made it possible for me to donate $1202.30 to Remind.org, part of the Bob Woodruff Foundation, an organization that helps returning warriors with all sorts of problems — physical, mental, emotional.
Please take some time and go to their website and learn more about how they support our returning veterans.
In January 2011, I decided that I would donate 100% of my ebook proceeds from The Last Horseman to Remind.Org. Why do this? Because I believe in what REMIND.ORG is doing. I'm a veteran myself, but was lucky enough not to have needed services like the ones this program provides. I believe we have a duty to take care of those men and women brave enough to serve in our armed forces and protect our freedoms. It's not about whether or not you believe in a particular political action or not — it's about supporting our troops, and healing the wounds (physical and otherwise) that they incurred while serving our nation. Serving us.
Why this book?  Because Sandy Banks, the main character, is a veteran. He saw combat, and he was irrevocably affected by it, so this book seemed like a perfect fit.
The first year I was able to donate about $140. My goal for 2012 was $500. Thanks to strong sales the last several months, that goal has been reached and more than exceeded. So thank you, mystery readers! A copy of the email receipt from the Bob Woodruff Foundation is at the bottom of this post.
Originally, this campaign was going to be just for 2011. Then I decided to extend it to 2012 in order to make a more meaningful donation and continue to raise awareness. Now I am going to continue this campaign indefinitely by making November (the month we observe Veteran's Day) the month every year in which I will donate 100% of proceeds from The Last Horseman to Remind.Org. Not just ebook sales this time, but also paperback and audio book sales, too.
I hope that some people join in supporting our returning troops in some fashion. If you buy a copy of The Last Horseman to make it happen, cool. If you investigate Remind.org or the Wounded Warrior Project, or any of several other worthy groups who help our returning veterans, even better. At the very least, keep these men and women in your thoughts. They truly are heroes.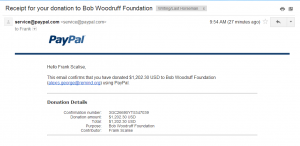 From time to time, I like to have people over. You know, it forces you to clean up all the empty wine bottles and hide the piles of dirty clothes in the closet. This visit is from Mr. Gary Ponzo, who writes a stellar series featuring Nick Bracco (no relation to River City's Dominic Bracco…at least, I don't think so). One of Gary's novels spent time as the #1 bestseller in Police Procedurals, which is a big deal, and he continues to be strong seller in the genre.
I think what I really like about Gary (besides him being a nice guy — sorry to blow your cover, Gary! — and the fact that his books have killer covers) is that he knows how to create tension. I mean, one of his books begins with a sniper's bullet hitting the hero in the chest…then backs up to tell the reader how things got to that point. You want tension? Try worrying about whether the date the hero has with a rifle bullet is going to be a terminal one or not!
Gary was kind enough to play a little Q and A with me recently. Here's what he had to say after I turned on the harsh light and put a phone book on the interview table between us…
A Touch of Deceit spent time as the #1 Police Procedural on Amazon . . . how did that feel? Honestly, it felt great.  My road to publication went through a NY agent, a small Indiana-based agent (Who was a prince) and many other parts of the country with rejection as the common theme.  However, once the book won the Southwest Writers Award for the thriller category, I knew I was on to something.
The response from my readers has been great and that's probably more rewarding than any sales accomplishment.  I still answer every email I receive so I feel a strong connection to my readers.  It's empowering to realize that just the simple arrangement of words on a page can have such an effect on people.  It's very gratifying. 
Tell us about Nick Bracco. What kind of man is he? Nick is probably just me, only smarter and much braver.  My wife doesn't know this, but many of the emotions he goes through, I've gone through as well.  As the narrator I get to impose my thoughts into his head.  So when he spends the entire first book trying to find a way to say 'I Love You,' to his wife, there's some cathartic therapy going on there.  Also, he suffers from PTSD while attempting to track down terrorists, which is not a good combination.  Especially since he and his family seem to find themselves the target most of the time.  His partner Matt McColm, is the FBI's three time sharpshooting champion, so he does most of the heavy lifting, but together they're a great team.
You've written three Nick Bracco novels.  How many more do you see happening?  Will the character change over time? Well, as long as he survives the intense predicaments I put him in, he can probably go on for a long time.  I always flirt with the concept of having him die, but the second I mention that online, I get terrific hate mail. 
Of course Nick changes with each novel, or at least I hope so.  In the first one, he's longing to protect his wife and leaves the FBI to become a sheriff in a mountain community in Arizona, but the second one begins with a bullet leaving a sniper's rifle aimed at his chest.  This leads him back into the FBI and we go forward from there.  His wife is pregnant in the first book and their son Thomas (Named after Nick's cousin Tommy) is an infant in the second.  In the upcoming fourth book, A Touch of Malice, Thomas is a toddler.  So we'll definitely see the progression of Nick's family as the story continues to develop.
What do you think are the most effective marketing tools you've used to get the word out about your work? Boy, that's such a tough one to answer because I truly believe the best marketing plan in the world won't overcome a bad product.  The best thing a writer can do is create the best book they can and go out there with your head held high and move forward.
Having said that, I tried some Kindle Nation ads when the novel first came out and that really helped get a jump start, but overall advertising doesn't have any staying power.  I really believe the best you can do is develop a brand and hope people recognize it when they go to purchase a new book.  Blogging, Facebooking and Tweeting all help keep your name out there, but it's hard to quantify.  When you go to a new town and want a cup of coffee, chances are you go to a Starbucks.  Why, because it's familiar to you. So when someone wants to buy a new book and they see Frank Zafiro's name pop up, they're familiar with it.  It's an easier sell. 
Your name is Italiano. So is Bracco's.  How much does your heritage play into your stories and your novels? Yeah, that's not a coincidence.  I'm Sicilian.  So is Nick.  So is Nick's cousin Tommy, who is associated with the mafia.  In the story, Tommy actually becomes part of Nick's team chasing down terrorists.  I thought that would be a tantalizing thought—what if the mafia helped work the underground to assist the FBI in finding foreign terrorists.  After all, they're American too, right?  That was one of the themes of the storyline.  We're a divided nation when it comes to politics, religion, or even football teams, but the minute someone threatens the U.S., we become the nastiest combination of patriots you've ever messed with. 
As far as my own personal experience with the Sicilian heritage, my father used to own a candy store in Brooklyn where I worked as a teenager.  The mob used the place to run the numbers game.  This was the original version of the lottery, where customers would pick three numbers and gamble on the return.  The winning numbers were the last three numbers of the total amount bet at the local horse track that day and if you picked the number correctly, it paid 500-1.  This game was rampant in the 1970′s until the government figured out how to make a profit on compulsive gamblers.
I got to know these Sicilian guys pretty well.  They would drink coffee and talk baseball, family and schoolwork with me.  They treated me like royalty, so I got to see a very different side to them, although I'm sure there was a lot of bad things happening that I never saw.  Also, I was Sicilian, like them.  Had I been Irish or French, I'm sure I might have had a completely different experience.
The publishing landscape seems to be changing so often it is more of a seascape than a landscape.  How do you see it evolving over the next five years? That's the six million dollar question isn't it?  I prefer to read a physical book myself, but I don't think this digital thing is going away anytime soon.  I mean from the moment someone tells you about a good book to the moment you're reading it on your tablet could be two minutes.  That's just crazy.  And it's so convenient to have hundreds of them fit into the palm of your hand.  I confess, I read most of my new books on my Kindle, so I do enjoy the convenience.
I can see a day where they virtually give away these E-readers just to keep you buying magazines, newspapers and books.  It just makes sense, doesn't it?  Having said that, I'm sure the book will survive this revolution.  When television became popular everyone predicted the demise of radio, but that didn't happen. (Not that I was there, mind you.)
As long as people are interested in reading thrillers, I'll be writing them.  And unless you've recently spoken with one of my healthcare professionals, that should be for a very long time.
Thanks for stopping by, Gary. For those of you who want to know more about Gary, head over to his website at and to his blog, Strong Scenes. And give Nick Bracco a try. You won't be disappointed.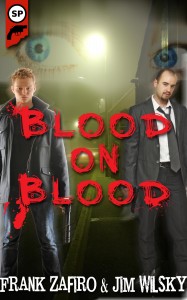 For the month of December, Blood on Blood (and all Snubnose Press titles!) is 99 cents. This is a great chance to get the first of three hard boiled novel collaborations by Jim Wilsky and me at a reduced price.
What's the first one about?
When half-brothers Mick and Jerzy Sawyer are summoned to their father's prison deathbed, it isn't for a tearful goodbye. The spiteful old man tells the two estranged brothers about an old diamond heist with outstanding loot, and sets them on a path of cooperation and competition to recover the jewels.
Jerzy is the quintessential career criminal, fresh out of a short bit and looking to get back into the action right away. Mick is the failed cop and tainted hero struggling to get by with a clean life that doesn't seem to ever pay off. Both men see this score as their ticket out of Chicago.
Throw in the mysterious, blond Ania, and Blood on Blood is hardboiled Hardy Boys meets Cain and Abel. Jerzy and Mick battle each other for all of it — the diamonds, the girl, and survival — and nothing else matters…not even blood.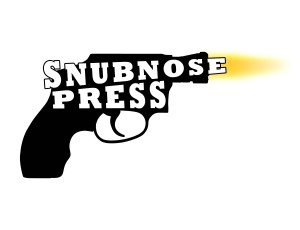 If that doesn't sell you on it, you can read the first fifty pages for free on my website. You can purchase the book on Kindle and Nook! It's also available in paperback, if that's your preference.
The entire Snubnose catalog is also available for 99 cents during December. You can check out Eric Beetner's Dig Two Graves, or R. Thomas Brown's Hill Country, and that's just for starters.
Take a look at Snubnose. You won't be disappointed…and if you decide to give Blood on Blood a try? Well, first off, thank you! And second off…well, there's two more Zafiro/Wilsky books coming in the series, so strap yourself in!