What we have here…is more March Craziness…which will actually last well into April.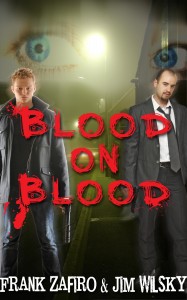 Blood on Blood will be free on Kindle, starting tomorrow (March 5)  and continuing for five days (until March 9)!
Get the first book in the Ania trilogy, for free.
What's it about?
When half-brothers Mick and Jerzy Sawyer are summoned to their father's prison deathbed, it isn't for a tearful goodbye. The spiteful old man tells the two estranged brothers about an old diamond heist with outstanding loot, and sets them on a path of cooperation and competition to recover the jewels.
Jerzy is the quintessential career criminal, fresh out of a short bit and looking to get back into the action right away. Mick is the failed cop and tainted hero struggling to get by with a clean life that doesn't seem to ever pay off. Both men see this score as their ticket out of Chicago.
Throw in the mysterious, blond Ania, and Blood on Blood is hardboiled Hardy Boys meets Cain and Abel. Jerzy and Mick battle each other for all of it — the diamonds, the girl, and survival — and nothing else matters…not even blood.
I co-wrote this book with Jim Wilsky. We used a dual first person narrative with alternating chapters. In other words, I wrote one character and he wrote the other. We did both in the first person, which works out well because the reader gets both the immediacy and intimacy of the first person but still is privy to a wider range of viewpoints than just a single narrator. We used this same format in the sequels, Queen of Diamonds and Closing the Circle.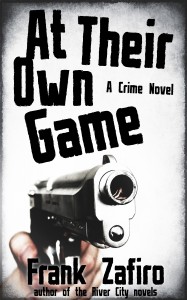 Will those titles be part of March Craziness?  Wait and see, but I think there's a pretty good chance.
Also new and available is my hard boiled, neo-noir novel, At Their Own Game.
And look for new short stories by Jim Wilsky in several different 'zines (he'll announce them as they come).