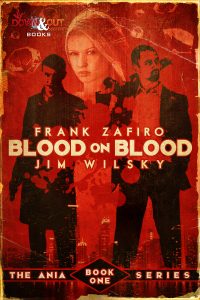 Ania Trilogy #1
When half-brothers Mick and Jerzy Sawyer are summoned to their father's prison deathbed, it isn't for a tearful goodbye. The spiteful old man tells the two estranged brothers about an old diamond heist with outstanding loot, and sets them on a path of cooperation and competition to recover the jewels.
Jerzy is the quintessential career criminal, fresh out of a short bit and looking to get back into the action right away. Mick is the failed cop and tainted hero struggling to get by with a clean life that doesn't seem to ever pay off. Both men see this score as their ticket out of Chicago.
Throw in the mysterious, blond Ania, and Blood on Blood is hardboiled Hardy Boys meets Cain and Abel. Jerzy and Mick battle each other for all of it — the diamonds, the girl, and survival — and nothing else matters…not even blood.
AVAILABLE APRIL 30, 2018!
or order from your favorite independent bookstore, such as 

or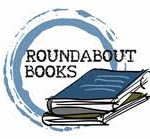 Ebook: 
(Or search "Frank Zafiro" at your favorite outlet!)
Audio, narrated by the talented Darren Meekin: 
"So hard-boiled I'm still sweating from the steam! A hell of a good story told by a pair of aces, guaranteed to jump-start your heart from the very first word. Add this to your reading list for sure!"
–Shane Gericke, bestselling author of TORN APART
"Veteran Frank Zafiro and debut Jim Wilsky have teamed up to deliver a stunning punch to the head with BLOOD ON BLOOD. Tightly plotted and perfectly executed, BLOOD ON BLOOD grabs your attention like a shot of Belvedere and a beautiful blonde. If you like your fiction boiled hard, don't pass this one up."
–Al Leverone, author of THE LONELY MILE
"BLOOD ON BLOOD is a straight shot of raw, fiery, undiluted noir. Dangerous dudes and even more dangerous dames conspire, connive, and collide with deadly results in a bare-bones, no-nonsense thriller that takes no prisoners. A definite must-read for those who take their crime fiction strong and dark."
– JD Rhoades, author of BREAKING COVER, LAWYERS GUNS & MONEY, and the Jack Keller series
"A raw, headlong rush of brutality and betrayal, Zafiro and Wilsky re-imagine Cain and Abel in the harsh, postmodern glare of contemporary life. In a partnership forged in hell, rival brothers must set aside long, simmering hatred to chase down their father's bitter legacy. A gorgeous escort both men covet and a brewing gangland war only complicate matters—to delicious effect. The tension crackles off the page, the story moves at a feverish pace from one explosive burst of violence to the next. BLOOD ON BLOOD is one helluva great read."
—Bill Cameron, author of COUNTY LINE
"Dark and nasty good. I haven't had this much fun reading about two brothers since Cain and Abel."
—Brad Parks, Shamus-Award and Nero-Award-winning author of THE GIRL NEXT DOOR
"With BLOOD ON BLOOD, authors Frank Zafiro and Jim Wilsky have pulled off the near-impossible. Where many co-authored novels wind up a jumbled mess of contrasting styles, the two authors utilize their considerable talents (and differing styles) to their advantage, alternating between the first-person narrations of half-brothers Jerzy and Mick Sawyer. The two writers twist and turn their characters with a whipcrack pace as they search for their father's stash of stolen diamonds. For any hardboiled fan, BLOOD ON BLOOD brings more than enough grit to keep you happily flipping through its nasty, nasty pages."
– Todd "Big Daddy Thug" Robinson, author of DIRTY WORDS and the forthcoming THE HARD BOUNCE
"With excellent, strong writing, Frank Zafiro and Jim Wilsky take us deep into the underbelly of Chicago's worst side. where ethnically divided mobs wage war over drugs, prostitution, and any other trade that will bring in a profit. Strength and fear rule, and a fist in the mouth or a bullet in the gut is only another day at the office. They also take us deep into the minds and hearts of two sons of the same father so much alike in some ways, yet their common blood is a line the sand no bonds can cross. Their father taught them, "Don't trust nobody," and should have added, "not even your own brother."
If you like it mean and menacing, down and dirty, Blood on Blood is right up your dark alley."
–Earl Staggs, Derringer Award-Winning Author
"Blood On Blood is an intense and truly addictive thriller that captures you immediately and holds you bound until the last page. A fast paced, absorbing crime novel, with characters who still linger darkly on the edge of my thoughts."
"Written in gritty, hard-hitting prose with wit and suspenseful twists and turns aplenty, BLOOD ON BLOOD is a down and dirty 'must read' that harkens to the classics of hardboiled crime fiction and noir."
—Debbi Mack, author of Identity Crisis, Least Wanted, and Riptide
"Blood on Blood is a gripping tale of two brothers racing against time to find missing diamonds in Chicago…[t]he authors keep readers guessing in a very satisfying way."
-Brian Triplett, Examiner.com
"[T]he last line…will hit you right between the eyes.  I didn't expect the ending; the action was so relentless and fast-moving I didn't have time to consider the possible outcome—but it works, and works very neatly…This is one of the most brutal and violent books from Frank Zafiro yet.  [Zafiro and Wilsky] have produced a book that will be popular with those who like their crime raw and hard."
-Karen Treanor, New Mystery Reader Magazine
"Blood on Blood never lets up. Zafiro and Wilsky give us brotherly hate and a desire to please a cold-as-ice dad who should've been castrated at birth. And of course a blonde bitch to complicate things. Who gets the blonde? And the ice? Ex-cop Mick, or gangster Jerzy?"
-Cindy Rosmus, editor of Yellow Mama
"Just when you thought you'd seen and re-seen every possible crime plot, along comes BLOOD ON BLOOD — a tale of two estranged brothers, one an ex-cop and one an ex-con, forced to work together to find a stash of diamonds stolen long ago by their late father. Zafiro and Wilsky have put together a fast-moving, authentic thriller, complete with witty dialogue and characters who seem real enough to touch. A beautifully written book, with stunning plot twists throughout. You'll love it!"
—John M. Floyd, award-winning author of MIDNIGHT and CLOCKWORK
Blood on Blood is the first book in a trilogy that continues with Queen of Diamonds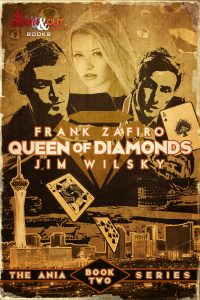 and concludes in Closing the Circle.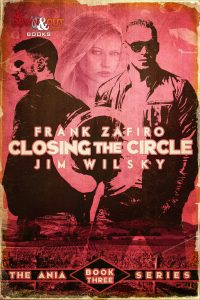 And don't forget the prequel, Harbinger, an Ania origin story!