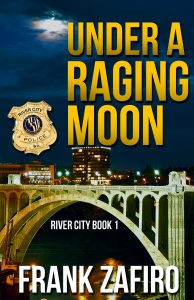 A River City Crime Novel #1
Under a Raging Moon has been rated as the #1 Police Procedural novel on Amazon!
A violent robber is loose in River City. Meet the cops that must take him down.
Stefan Kopriva, a young hotshot. Katie MacLeod, a woman in what is still mostly a man's world. Karl Winter, about to retire but with one more good bust left in him. And Thomas Chisolm, a former Green Beret who knows how dangerous a man like the Scarface Robber can be.
These are the patrol officers of River City – that mythical thin blue line between society and anarchy. They must stop the robber, all the while juggling divorces, love affairs, internal politics, a hostile media, vengeful gang members and a civilian population that isn't always understanding or even grateful.
Written by a real cop with real experience, Under a Raging Moon is like a paperback ride-along. Enjoy the ride.
Takes place in 1994.
or order from your favorite independent bookstore, such as 

 or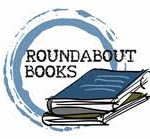 Ebook: 
(Or search "Frank Zafiro" at your favorite outlet!)
Audio: 
 Free Preview of Under a Raging Moon (over 50 pages):
REVIEWS:
"Engrossing, fast-paced, suspenseful… highly recommended."
LJ Roberts, DorothyL Mystery List
"Gritty, profane, and compelling."
Lawrence McMicking, curledup.com
"If you like McBain, or any gritty police procedural, then Zafiro is someone for you to pick up, enjoy, and then wait for the next book."
PJ Coldren, Amazon.com review
"Under A Raging Moon is an extraordinary crime novel. Like Ed McBain's Isola, River City is a combination of the best and worst of the human species, and its cops are as complex and haunted as the criminals they battle each day. Frank Zafiro has created a gritty, totally authentic world with believable characters, nonstop action, and snappy dialogue (think Hill Street Blues in Washington state). Don't miss this book–It'll keep you turning pages well into the moonlit night."
John M. Floyd, award-winning author of Rainbow's End
"In Under a Raging Moon, Frank Zafiro doesn't tell you about the mean streets, he takes you to them with clear, concise writing as solid as the asphalt beneath your feet. You feel the tension between those out there to prey and those there to protect. You feel the anxiety of knowing every routine traffic stop could turn into a killing, and every junkie and pusher you bust wants you dead. He also takes you deep behind the badge. His ensemble cast of cops have issues within themselves and with each other and can't leave them at home any more than we can. You'll be there with them in the squad room, in the patrol cars and in their favorite watering hole.
"Frank Zafiro has woven a powerful story with realistic, memorable characters, a suspenseful plot and a climax that will leave you breathless. If you've ever wanted to know what it would be like to put on the blue uniform, wear a badge and carry a gun, this one is highly recommended."
Earl Staggs, Derringer Award-winning author
The River City Series Continues…
And coming in 2018, Book #5 – In The End!
If you'd like to get the entire River City series (all four novels!) in one ebook volume, you can purchase Trouble in River City box set.

Please note: There is a previous, out of print version of this novel from Wolfmont Press still available on Amazon and elsewhere. You're welcome to buy this copy, and you may even consider it a collector's item. Same note on the the 2010 edition from Gray Dog Press.  But this current edition is a revised (and improved, and official) version.