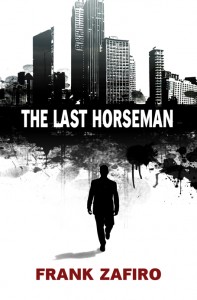 Readers of my novel The Last Horseman have made it possible for me to donate $1202.30 to Remind.org, part of the Bob Woodruff Foundation, an organization that helps returning warriors with all sorts of problems — physical, mental, emotional.
Please take some time and go to their website and learn more about how they support our returning veterans.
In January 2011, I decided that I would donate 100% of my ebook proceeds from The Last Horseman to Remind.Org. Why do this? Because I believe in what REMIND.ORG is doing. I'm a veteran myself, but was lucky enough not to have needed services like the ones this program provides. I believe we have a duty to take care of those men and women brave enough to serve in our armed forces and protect our freedoms. It's not about whether or not you believe in a particular political action or not — it's about supporting our troops, and healing the wounds (physical and otherwise) that they incurred while serving our nation. Serving us.
Why this book?  Because Sandy Banks, the main character, is a veteran. He saw combat, and he was irrevocably affected by it, so this book seemed like a perfect fit.
The first year I was able to donate about $140. My goal for 2012 was $500. Thanks to strong sales the last several months, that goal has been reached and more than exceeded. So thank you, mystery readers! A copy of the email receipt from the Bob Woodruff Foundation is at the bottom of this post.
Originally, this campaign was going to be just for 2011. Then I decided to extend it to 2012 in order to make a more meaningful donation and continue to raise awareness. Now I am going to continue this campaign indefinitely by making November (the month we observe Veteran's Day) the month every year in which I will donate 100% of proceeds from The Last Horseman to Remind.Org. Not just ebook sales this time, but also paperback and audio book sales, too.
I hope that some people join in supporting our returning troops in some fashion. If you buy a copy of The Last Horseman to make it happen, cool. If you investigate Remind.org or the Wounded Warrior Project, or any of several other worthy groups who help our returning veterans, even better. At the very least, keep these men and women in your thoughts. They truly are heroes.